Capture new clients. Keep existing customers.
Accelerate growth profitably.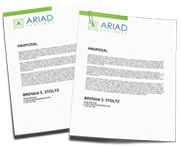 Does this sound familiar?
You're experiencing flat or declining sales revenue or thinner profit margins
You've just received VC funding and you're ready to go into hyper-drive with lead generation
You've spent money on a new website or an SEO expert to increase traffic, but still get few qualified leads from your website
You've been putting money into traditional marketing such as trade shows and ads but don't see the return from these activities anymore
Whatever your challenge, whatever you may be stuck on, Ariad Partners will help get you where you want to go.
With Ariad Partners you'll get:
Increased number of leads
Higher quality of leads
Higher ROI on your marketing automation investment
Higher ROI on your marketing spend (MROI)
Marketing and sales departments and technology that work (well) together
High quality content for lead generation and nurturing